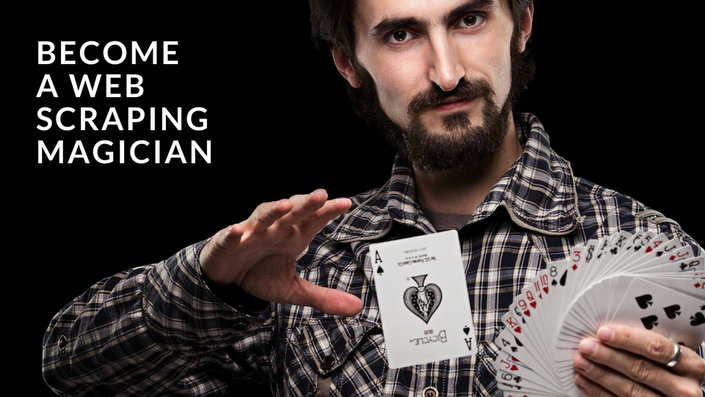 The Lean WEB SCRAPING Course
BECOME A WEB SCRAPING MAGICIAN
Learn to scrape data from any website, without coding!
After an introduction to growth hacking and data scraping, we will cover the following key topics in this course:
How to create a web scraping workflow
How to scrape data from multiple pages on a single click
How to run scraping tasks from your browser
How to import data from a website to your Excel or Google Sheets
How to use 'data scraping' recipe to automate your data extraction process
Also includes:
Shortcuts and hacks for one-click scraping
Custom scraping workflows
Scrape jobs for automation
Table scrapes
HTML scraping
Auto-pagination hacks for multi-page scraping
Mode of training: VIDEO
Duration of training: SELF-PACED
Access: LIFETIME
The course will have STEP-BY-STEP TUTORIALS on video guiding you through the entire data scraping process. You will have lifetime access to the videos and can take the course at your own pace.
At the end of the course, you will be provided with a certification by Mapplinks Academy.
This course is not just for entrepreneurs and marketers. ANYONE who wants to learn how to scrape data can take this up.
This course will be particularly useful in:
Web Scraping
Growth Hacking
Lead Generation
Competitor Research
Business Development
Digital Marketing
And to show off your sexy new skill to your colleagues and friends!
You can also get the following discounts on this course:
EARLY BIRD DISCOUNT: 25% off on the course price if you enrol before 31st May 2018. Ping me directly to get the discount code.
The LAST DATE for the EARLY BIRD price is 31st May 2018.
WHY WEB SCRAPING?
If you're a growth hacker or digital marketing, you would usually think of the most common application of web scraping as: LEAD GENERATION.
However, that's not all!
OTHER THAN the application of web scraping in growth hacking, here are the other ways people use Web Scraping -
Listings gathering - This is an area where the businesses are using web scraping to gather already listings from any website (example: job listings, real estate listings, etc - can be applied to any industry
Email Address gathering - The purpose of this is lead generation. Lead generation and Email extraction is a big application of web scraping for both B2B and B2C companies
Product review scrapes - this is an important one and the reason why many companies use it is so that they can keep an eye on their competitors.
Scraping for database creation or app creation - The purpose is to get similar data from different websites and then post all that data into one.
Social listening - Collecting data from different social media websites, whats trending and whats in.
Stat collection - Getting massive amounts of data for research purposes - This could be scraping of government websites or other websites for stats, general information and such.
Research & analysis - Research companies pull in massive amounts of data and then make sense of it. Usually, this data is put into an analytics tool.
User sentiment & product feedback analysis - Understanding customer sentiment and feedback by extracting reviews from E-commerce portals and other public forums
Product catalog creation - Building product catalog and using price data from competitive pricing
Social campaign extraction - Extracting data from social media sites that allow crawling to gauge consumer trend and the way they react to campaigns
Aggregator creation - Extracting hotel data and airline data to build aggregators, generate leads and provide better custom experience from the insights derived from the reviews
Comparison sites - Building price comparison sites
Risk prevention - Various government and private watchdogs can use web scraping to prevent malicious activities
Competitor Analytics - Competitive intelligence by monitoring other players
Reputation management - Scrape people profiles from social networks for tracking online reputation
SEO - Scrape search engine results for SEO tracking
Ad targeting - Provide better targeted ads to their customers
Your Instructor
Rishabh Dev is the founder of Mapplinks & Mapplinks Academy, the new-age digital marketing and growth hacking companies. He started working with digital marketing in 2008 when he launched his first started and has been changing the way marketers think since then!
Rishabh has consulted more than 60 businesses on growth marketing trained over 5,000 marketers on new-age marketing skills. His courses are offbeat yet simple and his style of teaching growth hacking is loved by his students, entrepreneurs, and marketers across the globe.
Frequently Asked Questions
When does the course start and finish?
The course starts now and never ends! It is a completely self-paced online course - you decide when you start and when you finish.
How long do I have access to the course?
How does lifetime access sound? After enrolling, you have unlimited access to this course for as long as you like - across any and all devices you own.
What's the duration of the course?
You can take the course at your own pace. The course is a part of our 'LEAN' course series and you should be able to finish the course over a weekend. That's the idea of lean course - to learn a new skill really fast without a lot of effort. No coding required... and not much time required!
Do I get a certification on course completion?
Yes. You will be given a certification by Mapplinks Academy on taking the course.